Pavement Marking
Permanent & Temporary Pavement Marking Solutions
Cillessen & Sons provides pavement marking in Kansas and Oklahoma to street and highway construction contractors. Our services include temporary pavement marking, permanent striping, as well as pavement marking removal.
We use only the best equipment and materials to meet job specifications, and our experienced pavement marking specialists ensure high-quality, long-lasting results.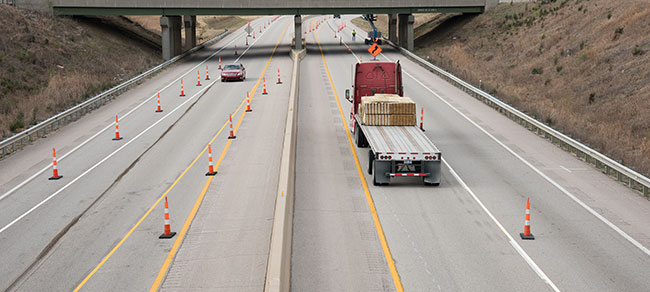 Pavement Marking Solutions
Streets and highways are safest when their markings are clear and accurate. Newly built roads require permanent pavement striping, and other traffic control marks, such as stop bars, crosswalks, turn arrows, and etc.  Drivers also must know how to navigate temporary street construction zones, which might require unexpected lane changes, exit closures, and detours.
Our crews use specialized equipment to apply the solution(s) and make sure the striping and other traffic indicators are set with precision for a high-quality, long-lasting outcome.
Cillessen & Sons provides permanent and temporary road marking to guide traffic safely through streets, parking lots, highways, and intersections. We offer a variety of pavement striping solutions to suit a range of surface types and textures, including:
Thermoplastic marking material
Epoxy marking material
Multi-component marking material
Contact Us for Pavement Markings
Cillessen & Sons has the pavement marking equipment, supplies, and skilled workforce to complete high-volume striping with excellence and efficiency.
To discuss a project or request a bid, contact us today at 316-682-2400 or request a bid online.