Surface Grinding & Grooving
Perform grinding, grooving and rumble stripping faster and safer
Cillessen and Sons is excited to introduce our new technology, the GrinderHog by Hog Technologies. As a complement to our water blasters, this machine has the capability to perform pavement marking removal as well as surface grinding, grooving, and rumble stripping. It can also remove embedded objects such as reflectors, leaving no binders or resins behind.
Benefits Include:
Grinding capabilities on both sides of truck
Ability to perform grinding with a single operator
Skip line control for on-the-fly adjustment of grinding patterns
Simultaneous vacuum recovery system
Computer-Controlled Profiling (CCP) for grinding, grooving, sinusoidal rumble strips and plunge cuts
Precision depth control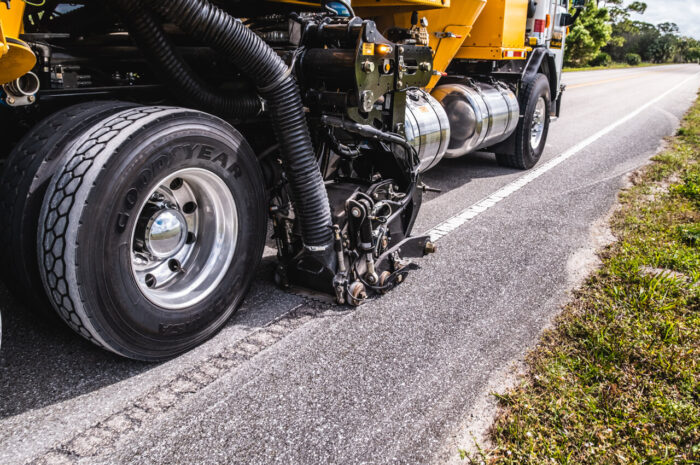 Watch the GrinderHog in action, see additional photos, and learn more about our capabilities below.
Safer, Faster and More Precise Surface Grinding
This machine is an asset to any surface grinding project, and can precisely excise portions of pavement with ease. Not only is this machine safer than traditional grinding using a pushcart, the Grinder Hog can operate up to 8 miles per hour.  With a width of 20 inches per head, this truck can remove pavement faster than virtually any other equipment on the market in just one pass. Additionally, due to its computer controls, our operators can perform grinding with the precision on the scale of centimeters.
Cleaner Removal Process
As if the speed, precision, and safety weren't strong enough attributes, our GrinderHog will leave projects cleaner than other methods of removal. The vacuum technology uses sonic pulses and self-cleaning filters to collect as much dust as possible during the construction process. All waste can be appropriately disposed of in most dumpsters using the truck's heavy duty high dump technology.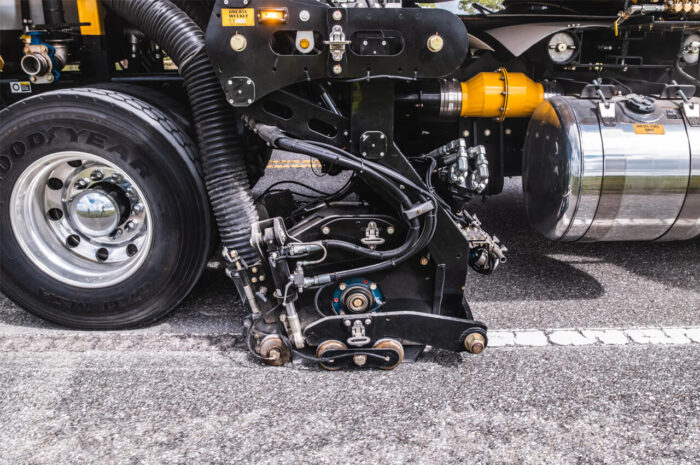 Sinusoidal Grooving
We're excited to be working with the Kansas Department of Transportation using this machine to help them on some of their first sinusoidal rumble strip projects. This is a unique process by which grooves are installed using a sinusoidal pattern with many benefits.
These sinusoidal rumble strips will:
Expand the life of the road with more precise removal
Reduce wear on vehicles while still alerting drivers
Extend the life of pavement marking within the grooves
Reduce external noise from vehicles compared to traditional rumble strip methods
As part of our commitment to make the traveling public as safe as possible, new technologies like the GrinderHog are helping to drive the changes necessary to reduce roadway accidents and deaths while at the same time offering a cost and time savings to our customers.