Traffic Control Plan Design
On-staff Traffic Engineering Expertise
Cillessen & Sons delivers superior traffic control plan design for road construction projects and work zones as well as traffic control plans for new developments and utility installations in Wichita and the entire state of Kansas.
Before work can begin on any street construction or development job, engineers must design traffic control plans for safe and efficient traffic movement, both while the project is in progress and afterward. New developments that will generate roads, lots, and additional traffic paths require even more meticulous consideration and planning.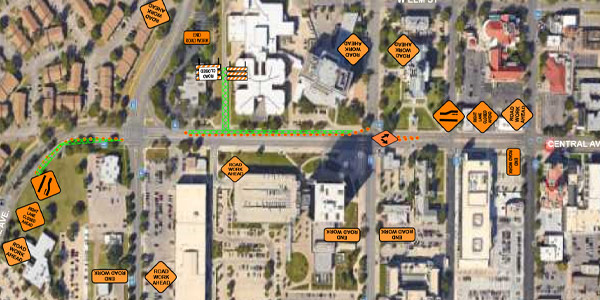 Traffic Control Plan Design Experts
Cillessen & Sons was co-founded by a traffic engineer. Our on-staff traffic engineers assess projects and develop comprehensive traffic control designs tailored to your specific requirements. We routinely design plans that meet a broad range of needs and ensure safe and well-organized traffic flow during and after a project. This includes specifications for short- and long-term:
Signing
Traffic signal systems
Parking
Road access
Detours
Other traffic control companies may have to outsource to obtain plans for managing traffic flow. Subcontracting to additional contractors can add unnecessary complexity to the construction process, and can interfere with projected schedules and budgeting.
At Cillessen & Sons, we don't need to outsource. We have two experienced traffic engineers who streamline the process of completing a project and enable us to provide efficient, distinguished service. Clients may take advantage of this valuable resource by incorporating it into their larger Cillessen & Sons project, or clients may commission a standalone traffic control plan design.
Cillessen & Sons is proud to offer this unique service in the Kansas area, and to provide every resource necessary for your project's success.